In June of 2018, I held a short workshop about the HuMetricsHSS initiative with colleagues attending the 2018 Summer Seminar – East gathering of the Association of Departments of Foreign Languages that was meeting at Michigan State University.
Paula Winke, Associate Professor in the Second Language Studies program at MSU, attended the workshop. She edits the journal Language Testing. During the workshop, we focused on how the five HuMetricsHSS values might be embodied in specific practices of scholarship.
Paula's group focused on peer review, and she left the meeting with a commitment to create a values-based award for peer review at the journal Language Testing. She and her colleague, Luke Harding, established the new Language Testing Reviewer of the Year Award this year.
The award recognizes a reviewer who has provided exceptional reviews according to the quality of the feedback they provide. Here are the criteria:
Knowledgeable (content-wise) feedback
Openness/resourcefulness of the advice
Collegiality/kindness of the review
The impact the feedback has on the publication(s)
The reviewer's timeliness
The reviewer's quantity of reviews
They have adopted a rubric to evaluate reviewers according to these criteria, and now have a concrete way to cultivate, reward, and recognize reviewers who provide the sort of meaningful and helpful feedback that enhances the scholarship they publish. The award also provides winners with a concrete way of documenting how their contributions embody the values for which the award stands.
The inaugural winner of the Language Testing Reviewer of the Year Award is Dr. Thomas Eckes, a reviewer who works at the TestDaF-Institut in Bochum, Germany. Sonja Zimmerman, a Ph.D candidate who works with Dr. Eckes, accepted the award at on his behalf at the International Language Testing Association's 2019 Language Testing Research Colloquium, which was held in Atlanta, Georgia.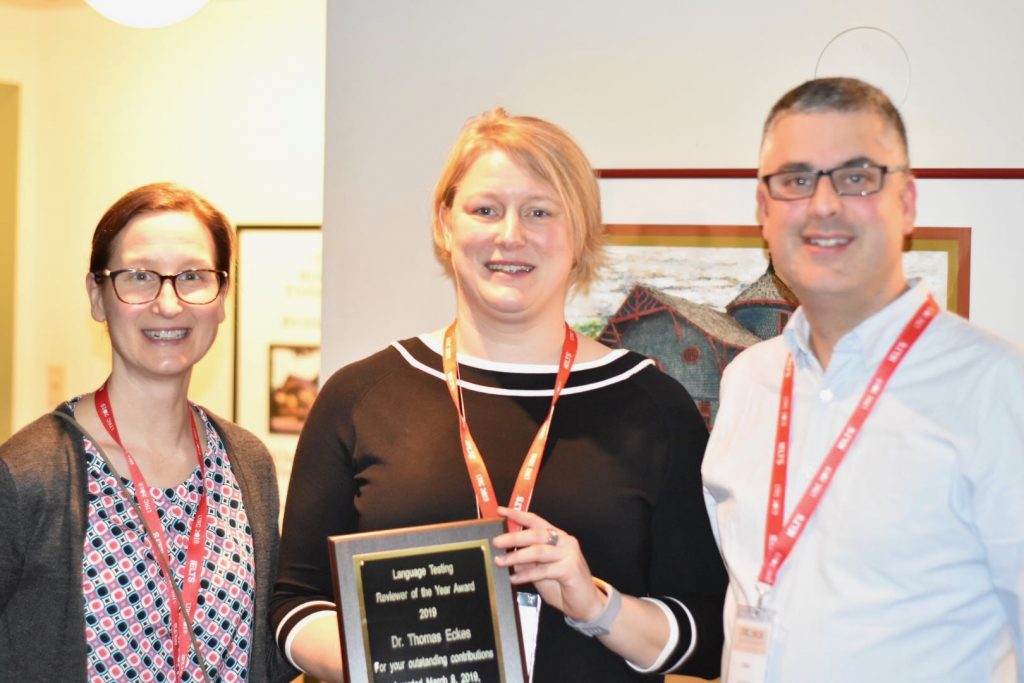 As we seek to identify indicators of impact for the HuMetricsHSS initiative, the establishment of this award is one we hope will have an enduring legacy.
---
This is cross posted at cplong.org.